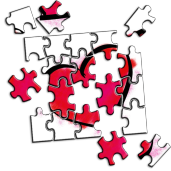 Dates and time
Sunday, February 12, 2017
Sunday, February 19
Sunday, February 26
Sunday, March 5

5:00 - 7:30 p.m. each evening
Location
Crescent Hill Baptist Church
2800 Frankfort Avenue
Louisville, Kentucky 40206

Cost
The workshops are free and open to the public. There is plenty of free parking on both sides of Frankfort Avenue and in the lot next to the Crescent Hill public library. Child care for infants through grade 5 is also free.
Schedule
February 12
Coping with Separation & Divorce
How do you deal with the physical, social, and emotional impacts of divorce?

A panel of recently divorced women and men will share their experiences, moderated by Paul York, support group facilitator.
February 19
Psychological and Spiritual Aspects of Divorce
What are the effects of divorce upon the self, upon relationships with others, and upon faith? How do we understand and manage these effects? How do we look ahead?

Kathryn Berlá, Ed.D, is a practicing licensed psychologist, board member of the Kentucky Psychoanalytic Institute, columnist, and therapist.

Joe Phelps, D.Min, is an author, community leader, and pastor of Highland Baptist Church.

February 26
Resources for Coping
Each attendee chooses any two of the following:

• Healthy and Unhealthy Relationships
Cece Lindsey has been working at The Center for Women and Families while completing an MS in Social Work with a primary focus on substance abuse and intimate partner violence.

• Codependency
Mary Beams, RN, BC, is an outpatient counselor at The Brook Hospital.

• Understanding Grief as a Partner in your Divorce Journey
Sherry L. White, RN, BA, GMS, GRS, is a private consultant on grief, loss, and stress management; author; and publisher of New Leaf magazine.

• Dealing with Loneliness
David B. Moore, PhD, is a licensed clinical social worker and a marriage and family therapist in private practice.

• Financial Aspects of Divorce
Michael L. Jones, ChFC, CFP, MSFS, has 29 years experience as a financial advisor and is a current support group facilitator.

• Dating - When Will I be Ready?
Michael Taylor, LMFT, a support group alumnus, is a family therapist in private practice in Louisville.
March 5
Restructuring Your Life as a Single Person
How do you establish a new identity as a single person, restructure your family, manage your career, develop support systems, and establish new relationships?

A panel of support group members at various stages in the divorce process will share how they have handled things, moderated by Steven Santo, support group supervisor.

Workshop Details
Directions
The church is located at the corner of Frankfort and Birchwood Avenues in Louisville. Please use the Birchwood Avenue entrance lobby opposite the Crescent Hill Public Library.
Transportation
Free parking is available on Frankfort Avenue and in the library parking lot a half-block west of the church on Frankfort Avenue. The number 19 and 31 TARC buses stop in front of the library.
Child care
Free child care is provided for infants through fifth-graders. Please arrive 15 or 20 minutes early to settle children into their programs.
Meals
A light supper is provided for everyone each evening at no cost by members of Crescent Hill Baptist. Remember to thank them!
Small groups
The last half hour of each evening is spent in small group discussions led by support group facilitators, giving participants the opportunity to share their reactions to each evening's presentation.
What does Divorce Recovery Louisville do the rest of the year?
Purpose
The group meets weekly to offer emotional support, practical advice, and a sense of community to anyone who is considering divorce, going through it, or rebuilding a life afterwards. The group is a single adult ministry of Crescent Hill Baptist Church; although sponsored by the church, the group is non-sectarian and self-governing, and welcomes participants regardless of religious affiliation, gender, sexual orientation, race, or role in the divorce.

Meeting time and location
Apart from the workshop described here, the group meets every Sunday from 5:00-6:30 p.m. in Room 211 in the education wing of the church. We will try to have signs and greeters to meet you; in their absence, please use the lobby entrance on Birchwood Avenue, bear right through the lobby and up the ramp, and take the stairs or the elevator to the second floor. The building is fully accessible.

Meetings are free and childcare for infants through fifth grade is provided at no charge. Walk-ins are always welcome.